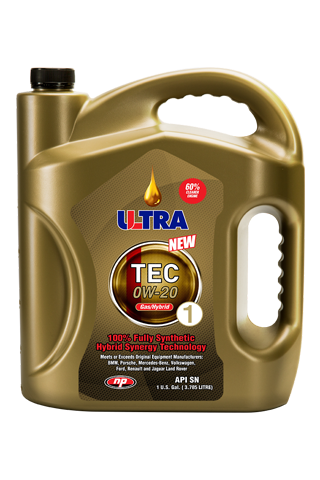 Performance Rating:API SN-RC, ILSAC GF-5
Ultra Tec Hybrid 0W-20 is a 100% fully synthetic motor oil that provides stability and endurance under extreme conditions that can cause conventional oils to break down. It delivers the ultimate performance under high-temperature conditions: unsurpassed protection against volatility burn-off and viscosity increase.
Main Applications
Specially designed for Hybrid Electric Vehicles (H.E.V) and Plug-in Hybrid Electric Vehicles (P.H.E.V) fitted with recent gasoline engines, turbocharged or naturally aspirated, direct or indirect injection
Road Benefit
Up to 80% reduction in Startup Wear (Engine Durability).
Up to 60% Better Sludge & Deposit Control (Engine Cleanliness)
Up to 65% Better Wear Protection
2.7% Fuel Saving Technology.