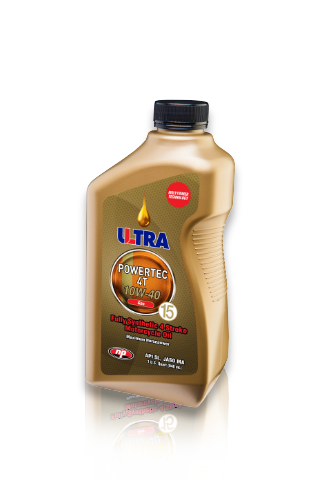 Performance rating: API SL, JASO MA
Description: A fully synthetic multi-grade 4-stroke gasoline engine oil developed for the latest high performance air cooled 4-stroke motorcycles. It is designed with "Moly Trimer Technology" to provide optimum protection to the three (3) critical areas of the motorcycle: engine, gears and clutch.
Main Applications
Ultra PowerTec 10W40 is specifically recommended for lubrication of 4-stroke motorcycle engines in high performance motorcycles.
Road Benefit
Unique combination of detergents and dispersants to provide excellent control on piston deposits leading to faster heat dissipation
Enhanced lubrication for maximum horsepower
Effective rust and corrosion inhibition property ensures longer life of critical components
Optimized frictional properties eliminate wet clutch slippage resulting in increased power and fuel economy